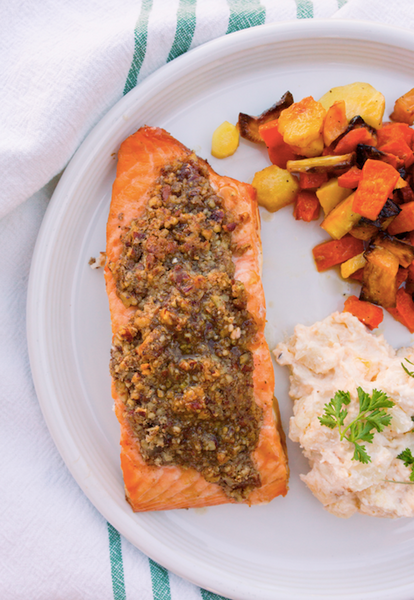 Thursday (9/28): Pecan Crusted Honey-Bourbon Salmon, Cauliflower Goat Cheese Gratin, and Maple-Roasted Vegetables (Gluten-Free)
The goat cheese gratin? This is worth every penny. It's just creamy, cheesy, and your kids won't even know it's cauliflower! Don't forget the star of the meal! The Bourbon-Dijon sauce should literally be sold by the bottle! We have had more emails about this dreamy meal than we can count!
*To make your meal paleo/gluten-free/dairy-free, leave us a note to omit the cauliflower gratin for extra maple-roasted vegetables*
Delivered Thursday afternoon between 3:30 and 6:30 PM. *Extra Sauce: $0.75 each (2 oz cup) - if you want to add, reply to your confirmation email, and we will send you an invoice.
Extra Salmon/Sauce: Order Here + Extra Maple Roasted Veggies: Order Here + Extra Cauliflower Goat Cheese Gratin: Order Here
Ingredients: Pecan, Salmon, Salt, Pepper, Coconut Oil, Dijon Mustard, Coconut Sugar, Bourbon, Coconut Aminos, Worcestershire Sauce, Green Onions, Cauliflower, Heavy Cream, Parmesan Cheese, Mozzarella, Goat Cheese, Rutabagas, Turnips, Carrots, Sherry Vinegar, Chicken Broth, Maple Syrup